As a Buffalo Personal Trainer, I see clients for a number of reasons. In my experience, the most common reasons people search for a Personal Trainer in Buffalo NY are to Lose Weight, Weight Loss, Fat Loss, to Get Leaner, Get More Toned, Add Lean Muscle Mass, Feel Better, Reduce Aches and Pains, Improve Flexibility and Mobility, Start Getting Healthier, Increase Energy and Stamina, and to Recover / Rehab from an injury. For any of these reasons and many more "Eat Less & Move More" is actually pretty damn sound advice. I like to keep it simple. Of course, I'm fully aware that it's more complicated than that but there is a lot to be said for just getting up and moving. I came across this video on Facebook. It really fired me up and inspired me. I wanted to share it with you. I truly believe that Movement is Medicine. Further, I believe that Movement is the best medicine we have. As a Personal Trainer I treat my profession in some ways like a Doctor. I prescribe Movement as my Medicine to help my Personal Training clients to accomplish their goals. I have gone through extraordinary lengths to ensure that I understand proper movement and functional movement and I have much more to learn but that's not the point of this blog. The point is that just plain movement and having fun can make all the difference in the world. Please watch this video about an amazing man, Stephen Jepson. Stephen who is in his 70's is a former teacher, has a piece of his pottery in the Smithsonian, is learning theorist, philosopher, inventor, athlete, and perhaps most importantly a kid at heart. Watch and enjoy! Please find below my paraphrasing of the Key Points of the video for me:
The key to a long and healthy life is play!
Too many people fall and break their hip. A tremendous amount of these people die within a year. 80% over the age of 65 will never live independently again!
Playground activities are just as important for older adults as they are for younger children because they literally build neural pathways, grow brain cells, and can prevent or delay Alzheimer's and Dementia. They develop balance and coordination which is the key to preventing bone breaking falls.
Developing your non-dominant hand and foot are the key to growing new brain cells
It's never to late to start!
Some of the benefits of keeping your mind and body agile include improving your memory, feeling juiced, feeling jazzed, and revitalized. It causes you to be more creative and more excited about life.
There is beauty in almost every day in almost every person's life. All you have to do it look for it and it's there to see and find!
I hope you enjoy and are moved by the video as much as I am. To learn more about Stephen Jepson please visit his website at: http://neverleavetheplayground.com/ Thanking for reading my blog. I hope you found it worthwhile.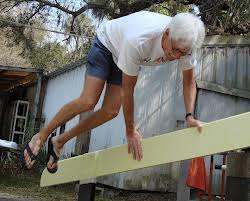 To learn more about this Buffalo Personal Trainer company pelase visit my website at: www.trainsmartbuffalo.com Be Well! Joe Fox