Good Morning! What a great fall day! Beautiful hues of red, gold and tan leaves are swirling all over my neighborhood. I've already had one cup of java from Artisans and Farmers where I go every Saturday to get my egg share. Now I'm home, and brewing a dark roast...the smell of freshly ground coffee beans is one of my favorites!
Caffeine Can Have a Half-Life of Seven Hours
"If you're a slow metabolizer of caffeine (many people are), seven hours after you drink a cup of coffee, half the caffeine is still in your system. Which means a 4:00 p.m. Starbucks can block your sleep neurotransmitters and throw off your natural rhythms, leaving you tossing and turning at 11:00. Caffeine also excites the adrenal glands, which help regulate stress. If you're struggling with insomnia or intense stress, eliminating caffeine can make a huge difference. At the very least, cut your intake in half and never consume caffeine (that includes soda - which should be gone from your diet anyway) after 1:00 p.m."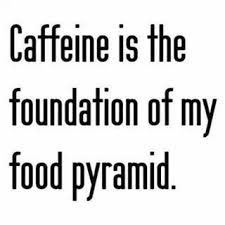 Growing up in an Italian family my love of coffee developed early. It was common for all of us to sit around after dinner, sipping coffee that my grandmother made on the stove-top and indulging in homemade treats. My 'Mama Jo' could turn out a mean pastry! To this day, I love my morning coffee and miss my oh-so-dearly-beloved, Josephina!
I want to say something like 'I want my palate to understand the complexity of the bean', but I just can't spit that out without spraying the sip I just took all over the walls! Ridiculous! Love, love, love a great cappuccino (requires artistry), but they are near impossible to find. For a while I was brewing a lot of espresso and enjoying that, but the cups are so cute and tiny that I drank it too fast and poured too many. My body was in mayhem and I was bordering on brutta figura (making a bad impression) for anyone talking to me over the next couple of hours!
Ok, so yea. We walk around with our coffee cups like a badge of honor .....lattes, cappuccinos, crapa-frappachinos, latte's, and expresso ristrettos! It can get a bit confusing when you first learn the lingo..do you want it dry, frothy, bagged, wet, or extra foamy? And if you want to feel worldly you can order a cafe noir (French for black coffee) or an Americano (I always feel a bit naughty when I pull up and order mine "I'll have a tall, black, americano" hmmm), a cafe`macchiato (Italy) and let's not forget a cafe` leche (Spanish for coffee with milk). Who knew we could get such an advanced education contemplating coffee?
According to Michael Hogan, a Canadian born actor who had a starring role in Battlestar Galactica. (Take it for what it's worth, but I found it funny and maybe partially true. Hehehe):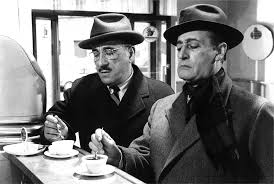 "Coffee snobbery's now a "lifestyle choice" for men trying too hard to be interesting."
How about you? Do you look forward to that first sip in the morning? Close you eyes and just imagine what that first sip provides you with? Is it more emotional, intellectual, or physical? Are you a one cup guy/girl, or are you the person who can never have enough?
Coffee is a big business as attested to by watching the drive thru at Starbucks, Timmy Ho's, and Dunkin Donuts. Recently, I had to replace my 5 year old coffee pot, and the selection at BB&B was overwhelming! Machines that grind your coffee and make it too, one cup machines, espresso, auto-brew; uck, pleazzzzz stop! I'm not prone to migraines, but I could have sworn I felt one coming on.
A couple of interesting coffee houses I've tried in Buffalo are the Sweetness 7 Cafe on Grant Street and Undergrounds Coffee House on South Park. At Sweetness 7 I felt like I walked into my grandmother's West side home. Very nostalgic. Really enjoyed the atmosphere, but the coffee is average. At Undergrounds, I tried a pour-over (again) - I don't normally like them. Three out of four that I've tried were bitter. The one I had there helped me finally understand that a pour-over could be delightful! Not particularly out of the ordinary, but fun!
What your favorite place to hide out with your coffee or meet up with friends?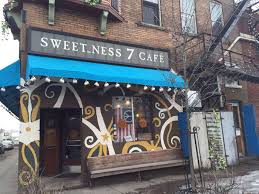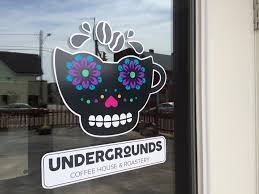 So are we obsessed or addicted? Do we really enjoy it or are we trying too hard to be cool? Decide for yourself! Meanwhile here are some random facts I dug up that bare repeating because they are either "cool" or amusing - again, you decide!
"Coffee was imported from Arabia to Europe through Venice in the 1600s. While some monks urged Pope Clemente VIII to outlaw the "Muslim" drink, the pope argued that the drink was so good that it would be a "sin" to let only "pagans drink it." Coffee thus began to spread across Europe.

"

"A 2011 study showed that women who drink two to three cups of caffeinated coffee a day were 15% less likely to develop depression over a 10-year period than those who drank one cup of coffee or less per week.

"

"Light roast coffee has more caffeine that dark roast coffee. The longer coffee is roasted, the more caffeine is cooked from the bean.

"

"One third of the tap water used for drinking in North America is used to brew daily cups of coffee."
DuringWWII, American soldiers were known as G.I. Joes. Because they drank large amounts of coffee, the drink soon earned the popular nickname "a cup of Joe.
Join me for the next blog based on Dr. Frank Lipman's book "The New Health Rules" where we will talk about Teas and more seriously discuss caffeine and it's effects on the body.