Choose Cheese That's Less Bad For You
"If you feel like a cheeseless life is not worth living, at least know what's easier on your system than mainstream cow products: raw cheeses (which aren't available everywhere); cheeses made from sheep's milk, like feta, manchego, and roquefort; goat cheeses and buffalo mozzarella. As with any animal product, the healthier the animal, the better the product. Whenever possible, buy from local farmers whose practices you know."
So, by now we have (hopefully) established the fact that fats don't make us fat. I know it can be confusing because for years we were told not to eat things that contain fat. We need to start consciously connecting the dots in our brain to understand the truth - fats don't make us fat. Including cheese fat - if it's real cheese from a quality source.
So what does make us fat? Sugar, refined & processed foods and overconsumption of any food - good or bad for you. For many of us, gut issues exist - IBS, reflux, crohn's, celiac, lactose intolerance, etc. Some of these show up as the true definition of the disease, while most appear to be merely a food sensitivity. Eating whole, real foods can heal your gut. Cheese can be included in that after you determine what is going on with your body by doing an elimination diet. More on that another time.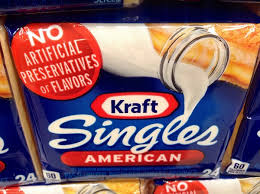 <------- DON'T FEED YOUR FAMILY FAKE CHEESE!
What Pam knows for sure: Spray cheese, cheese spread, anything labeled as a cheese 'product', boxed or with no need for refrigeration - these are not real foods! These are processed foods. Yes, sorry to tell you that your favorites - velveeta and kraft american cheese slices - are not real cheese, and I would go as far as saying it's not real food.
Cheese gets its orange coloring from a dye, so when you pick one out, get it based on the label of ingredients, not how orange it is.
Cheese from grass fed cows, goat and sheep are some good options. Raw cheeses are great, and easier to find than they used to be, but U.S. labeling is loose at best, so label reading is recommended.
According to Dr. Mercola, "One of the most valuable nutrients in cheese is vitamin K2, which the latest scientific studies indicate is even more important to your heart, brain and bones than previously thought. Cheese also provides a cornucopia of vitamins, minerals (including calcium), protein, and fat."
If you are looking for cheeses with the highest K2, here is his list of recommendations:
Gouda
Brie
Edam
Other cheeses with lesser, but significant, levels of K2: Cheddar, Colby, hard goat cheese, Swiss, and Gruyere.1
What Pam Proposes: Do not run out and start consuming these cheeses as if they are going to prevent heart disease and build up your bone density. We have that bad habit in this country - when we hear 'good for you', we hear 'more is better'. However, you may want to consume these cheeses along with healthy foods like an olive and celery salad, or any green leafy vegetable. I do propose that you throw away the processed proverbial crackers that so many of us like when we think of cheese. Experiment and learn to appreciate the taste of the cheese for what it is. Take a bite and savor the flavor and texture. Find one you really like, then go to a wine store and ask what wine pairs best with it for a special occasion, or have non-flavored sparkling water on the side.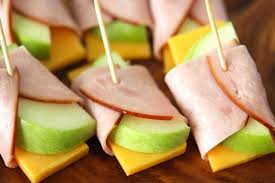 I personally find fruits make great cheese companions. My favorite pairing fruits are cantaloupe, pears, and apples. I think a very sharp aged cheddar and green apple bring out the best in the fruit and the cheese.
Here is my favorite all time cheese recipe from Maria Emmerich which she calls "Mac and Cheese", but it so much better than regular mac and cheese. I keep this as a special occasion recipe because it is magnificent served directly out of the oven and because it's hard not to overindulge.
"Hearts of Palm is a great veggie to substitute for noodles. They are from the inner portion of the palm tree. Hearts of palm are ivory-colored and delicately flavored. Their texture is smooth and a little firm with a flavor that slightly resembles an artichoke. Canned hearts of palm are packed in water and can be found in most supermarkets.Yeah, they are a little more dense than a noodle, yet a lot lighter in calories and carbohydrates. Higher in nutrients and fiber. One tip, par-boil the hearts of palm to soften them before using."
"NOODLES" 2 jars of Hearts of Palm Water or chicken broth or homemade bone broth
CHEESE SAUCE: 1/4 cup butter 3 TBS organic cream cheese 1/4 cup beef/chicken broth (homemade bone broth turns this into a healthier option) 1 cup sharp aged real cheddar cheese, shredded 1/4 cup Parmesan cheese, shredded (find the best ingredients) Sea salt and pepper (to taste) 1/2 cup sharp cheddar (for topping) CRUNCHY TOPPING: 2 TBS butter 1/2 cup blanched almond flour Preheat oven to 375 degrees F. Bring a large pot of chicken broth OR water to a boil. Season the water with salt. Spray the baking dish with olive oil spray. Cut the Hearts of Palm into macaroni noodle shapes. Cook the Hearts of palm in the boiling broth or water until tender, about 5 minutes. Drain well and pat between several layers of paper towels to dry. Transfer the hearts of palm to an 8×8 baking dish and set aside. In a saucepan, melt butter over medium heat. Stir in cream cheese and broth. Cook and stir for 2 minutes or until thickened. Reduce heat. Add the cheeses, stirring until cheese is melted. Add salt and pepper to taste. Remove from heat, pour over the veggie, and stir to combine. In a small bowl, mix the butter and almond flour together until clumpy. Place on top with the additional 1/2 cup cheese and bake until browned and bubbly hot, about 15 minutes. Makes 6 servings.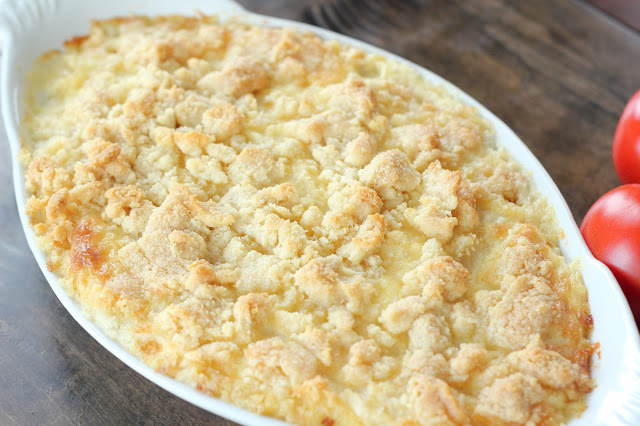 Picture of the finished meal is provided from Maria Emmerich's website.