What do you think of when you think of eating chicken wings? Well, it probably depends upon your level of knowledge of health and fitness or something else, like just a fist pounding barbaric out of body of experience that says "OH YEAH", CHICKEN WINGS!!!! It unconsciously may bring about a desire for a good brew to go along with it. Whether you choose to indulge in that is left to your discretion. However, if you're asking….I recommend Dark Horse or Franziskaner, two of my favorites! Seriously though. I have asked myself many times if chicken wings (one of my favorite cravings), are good for me. Here is what I have come up with. There are ways to make most food items healthier! Chicken wings are no exception. Healthy chicken wings are possible! So, here is how I change this up to be a healthier option than fried wings with tons of grease falling over the dish. The poultry you use should be organic, grass fed or from a reputable source that does not add all the hormones, steroids and antibiotics. A well raised, somewhat clean chicken! Personally, I like to buy from Orchard Fresh in Orchard Park, Artisan & Farmers in Snyder (they work with a lot of local area farmers for their meats), local farmers like Green Heron Growers, and Wegman's. I save Wegman's for last because I have gotten a lot of spoiled organic chicken there, and often find things expired, but on the shelf. So if you decide to buy organic chicken from Wegman's be sure the date is good on it. Chicken Wing Skin One question you may ask regardless of how this is prepared would be " is chicken skin good for you?" Well chicken is a whole food and as such the skin and bones are included and have their own inherent nutrients. Bone soup is well known for its' medicinal qualities which strengthen our immunity and aid in making us stronger. Just the same, the fat from skin of the chicken it mainly monounsaturated. This fat is in the form of Oleic acid that is also found in olive oil, sesame oil, grapeseed oil, avocados and more. It is said to increase good cholesterol (HDL)and decrease the bad (LDL); possibly helping with heart health. Fat does not make us fat! There is also some saturated fat associated with chicken skin, but it only takes a look around to realize that fat does not make us fat! We have; all but one, here and there, tried to follow a low-fat/no-fat diet at one time or another. That has not worked! In fact, it seems to have made us fatter than ever. Another factor that may affect your weight is the satisfaction you get after indulging in a whole food that has satisfied you. This makes it less likely to go looking for sweets and more food to stuff your face with. Love that healthy chicken wings are an option! A nice balance would be to eat your wings with a healthy salad or side of your favorite vegetable (preferably green). So, my conclusion is that if we get our protein from a reputable source, AND keep our portions within reason (that may vary depending on your activity level, and gender), and prepare it with a product that contains fewer, and healthier ingredients, enjoy it guilt-free! Healthy chicken wings can be eaten without any sauce if they are crispy or cooked to your liking. Basting with olive oil before they go into the oven is often enough for a very satisfying flavor. Preparing Healthy Chicken Wings: 1. Preheat the oven to 450 degrees. I think one reason my wings turn out so crispy is because I will only put them in the oven when I feel it has been on the desired temperature at least 10 minutes.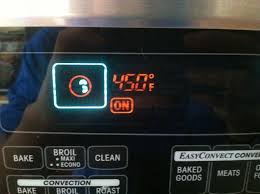 2. I line a pan with parchment and lay my wings in a row. At this point they are naked with no added liquid, unless you will be cooking them with basted olive oil. If that is the case, do that once when they have been laid on the parchment.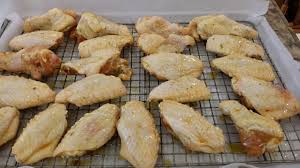 3. Cook the naked wings for 15-20 minutes (depending on how your oven cooks), take them out and turn them around for another 15 to 20 minutes of cooking.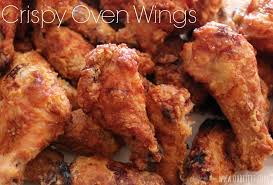 4. At this point, I usually look at the wings to be sure they are just the way I like them – super crispy! 5. Take the crispy healthy chicken wings, and toss them in a bowl using a sauce that has few and better ingredients than most. I take Jakes sauce with a little raw honey, and sometimes a little red hot pepper; depending on how hot I want them. Then they are put back into the oven for about 3-6 minutes, taken out and devoured.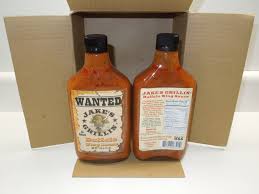 6. Try to follow the rules of etiquette while eating, not reverting to the cave woman or man in you - slurping and crunching as you eat! Another consideration is to keep a wet paper towel or two nearby, otherwise you may unconsciously refer to the Neanderthal inside and begin licking away at your fingers which may seriously damage relationships if you are sitting with a germophobe or perfectionist!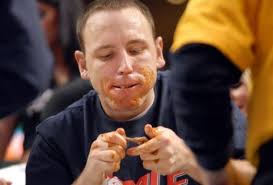 This taken into account, you may just want to indulge by hoarding all the wings for yourself! Guilty pleasures! To Dip or Not to Dip? That is the question when you are thinking about eating your healthy chicken wings! If you can't do without blue cheese with your healthy chicken wings, a homemade recipe follows. Ingredients for Healthier Homemade Blue Cheese Dressing: 2 1/2 oz blue cheese 3 TBS organic beef broth 3 TBS organic sour cream 2 TBS Organic Mayo 2 tsp coconut vinegar 1/8 tsp garlic powder Celtic sea salt and freshly ground black pepper In a small bowl, mash blue cheese and broth together with a fork until mixture resembles a broth large-curd cottage cheese. Stir in sour cream, mayonnaise, vinegar, and garlic powder until well blended. Season to taste with salt and pepper. The dressing makes 4 servings. (taken from Maria Emmerich)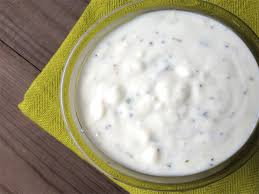 Likewise, Trader Joe's makes a blue cheese that has better ingredients than many others who have soy in their products. Keep the blue cheese to a minimum, dipping rather than drenching the wing. Blue cheese is not one of the good fats recommended, but better a little is better than none at all. Deprivation makes it easier for all of us to go on binges. You can also dip your wings in a red sauce called Sweet Chili Dipping Sauce. Here is how to make that. Ingredients for Sweet Chili Dipping Sauce: 5 Tablespoons white wine vinegar 2 garlic cloves, minced 2 Tablespoons honey 2 teaspoons chopped red chilis or 1 small mild red chili, minced finely 1 teaspoon arrowroot powder 1 teaspoon grated ginger ¼ teaspoon salt ¼ teaspoon cayenne pepper (optional) Mince garlic with microplaner or chop very small. In saucepan, combine all ingredients and stir so arrowroot is dissolved. Boil and cook 1 minute or less until sauce thickens. Cool, and serve for dipping. (yummly.com)