Here is what Dr. Lipmans says:
BREAK UP WITH BREAD
"Wheat is not your friend. It's addictive and an appetite stimulant, and the gluten it contains can make you sick. Pasta and bread ar trouble - and whole wheat varities are no better. It can be a big lifestyle switch to steer clear of toast in the morning, sandwiches at lunch, and pasta for dinner, but once you make it a priority, you'll see that there are plenty of delicious alternatives."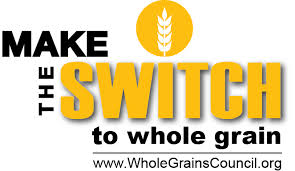 What Pam knows for sure: In our food system there is so much misleading information. Labels on the front and back often don't match. The reality of labels in this country, without getting too craa-craa, is one that is very lax and deceiving. There are so many loopholes in our labeling system that almost anything goes! We allow the guys with all the cash to market to us, taking us on a path that is often confusing, and without intended drama, possibly deadly! Did you know that a company can say something is whole grain and have as little as 1% whole grain in the product? MANY, if not most of the highly refined foods, like bread, cereal, crackers, pastas are not true whole grains, but have a little bit added to them to be able to make this claim. So many imposters that it's hard to keep up.
According to Dr. John Beardi from Precision Nutrition, "many manufacturers color their breads, crackers, and snacks brown (often with molasses) so that their foods sorta look like whole grains. And this just scratches the shady surface of the "whole grain" industry."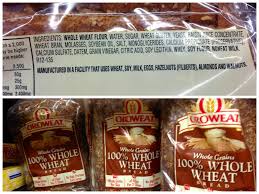 In the picture above, I've given you an example of an "advertisement" on the front saying "100% whole wheat", but the food label on back tells a different story! It contains "whole wheat flour, sugar, wheat gluten, raisin juice concentrate, molasses, soybean oil, salt, monoglycerides, calcium Propionate (preservative), sulfate, datem, grain vinegar, citric acid, soy lecithin, whey, soy flour and non-fat milk."
My take on that label is that I would be eating a lot of sugar and chemical preservatives. So you see, to call that bread 100% whole wheat is a case of pure depravity!
Take this quick mental inventory as to what foods you think are whole grains, state the answer out loud. Or if you are with some other people, all write down a few examples. Now see if what is truly a whole grain matches with any of your answers. Here are some examples: steel cut oats, amaranth, quinoa, millet, farro, barley, wheat berries and wild rice. Did you get it right? If not here's your chance to walk away knowing what is good for your body.
Oh, and one more suggestion; always buy the plain version of products vs. the seasoned ones. Spices can mean almost anything on the label, but at home, you have the peace of mind to know the ingredients you are using. Always better to use spices and add-ins from your own pantry.
What Pam Proposes: Try to begin swapping out the fake grains in your house for real ones. Acceptable breads are those whose label says 100% whole grain or 100% whole wheat. These are the unprocessed ones. Almost anything else, is a processed, refined grain food. Here are some of the deceiving labels: "100% wheat," "cracked wheat," "multigrain," "oat bran," "pumpernickel," "rye" (breads), "wheat," "wheatberry," "stone ground" or "stoned wheat," "whole bran" ("7-bran," "12-bran") or "7-grain" ("9-grain," "12-grain".) They sound good, but have been stripped and had refined or reprocessed grains added in. Did you ever look at a "whole wheat" bread and notice it has wheat gluten added, then wheat gluten again, and sometimes again? When something seems off, trust your instincts, it usually is.
Keep in mind that 1/2 cup of the above mentioned whole grains is a serving size. When eating a true whole grain bread, one slice is a serving size. Here are some links for recipes that can introduce some good nutritious whole grains into your diet:
http://www.bhg.com/recipe/honey-soaked-quinoa-salad-with-cherries-cashews/ (please note when making this, 1 cup is a serving size for 4)
http://www.food.com/recipe/apple-pie-oatmeal-338268
http://allrecipes.com/recipe/229653/wheatberry-waldorf-salad/ (10 serving in the entire recipe)
http://allrecipes.com/recipe/96787/brown-rice-breakfast-porridge/ (2 servings)