In this land of plenty we take any opportunity to turn a holiday into a celebration that includes feasting on food and drink.
I think for many the question of the day is "how will I fill the Easter baskets this year" or from the child perspective "what will I get in my Easter basket"? Easter is about the Easter Basket like Halloween is about filling the bag, and Christmas is about gifts around the tree. Easter baskets, Easter egg hunts and Easter dinner - it's all about the food, wouldn't you say? I grew up in a home where sweets were king. Our Easter holiday was spelled S U G A R! We didn't miss out on any goodies; bakery shoppe, candy stores or homemade Italian specialties. And, that was after a big meal filled with refined carbohydrates. Thus my life long goal of trying to quit sugar. I have had some bouts of success, and many bouts of failure. I just keep trying to eliminate the white stuff and replace it with better options. I wouldn't wish a sugar addiction on anyone, but seeing as there are thousands of books out there about detoxing from sugar, and being that we live in a society where there is an obesity epidemic going on, ummm, I get the feeling I'm not alone with my habit. Wouldn't it be wonderful to raise a society filled with children who prefer homemade hummus, cut-up veggies, and healthy chips rather than....so much sugar! Let's make a change in how we celebrate our holidays starting with this one! I know so many well-intentioned parents who would love nothing more than to provide their children and themselves with a healthier lifestyle . However, with the fast pace of life, and both mom and dad working outside the home, that thought may be the exception rather than the rule we wish it were. Everyone is so busy, trying to do their best to juggle activities for their kids, exercise for themselves, homework, and spouse time - that work to life balance. It's exhausting! It takes time to make changes in a family's food plan so here are some ideas to making your whole Easter celebration (basket goodies included), healthier. Don't give up! Slowly, swap out one unhealthy habit for a healthy one, and by the end of year, look back and be proud of all you have accomplished for yourself and your family.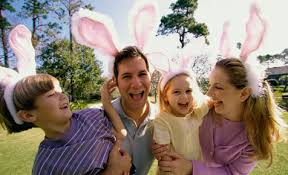 Make it about spending time with Family and Friends Instead of focusing on the food, focus on the people who will be spending the holiday with you. How can you make it more special for them to share time with you? With luck Easter falls on a nice spring day - go out and play a game of toss, croquet or bocce ball. Stuck inside? Get out Pie Face or the Headband game. For adults, cards for humanity. Another possibility is to color eggs together on Easter day instead of ahead of time; have a contest and a winner! Loser loads the dishwasher while the winner watches! Take a Walk If weather permits, take a walk after eating your healthy meal. Observe the beauty of the day - outside. Even if it's snowing (fingers crossed that it is not), you can always go out and make snow angels. Create New Traditions For small get togethers, cook your meal together. There is something about cooking together that makes it intimate, and fun. It has that cozy, familial feeling. So instead of going crazy trying to get everything ready as hostess; destress, and wait for your crew to join you in the preparations; asking everyone to bring what they need to make for their contribution to the meal. Make a small appetizer of veggies and homemade dip to enjoy while you engage yourselves in cooking. And, if so inclined, crack open a good bottle of your favorite wine or refreshment. You could change focus on Easter by going to a movie, and making that a new tradition. Enjoy a nice light meal afterwards. Don't let food steal the show! Or, if you are an at-home movie watcher, put a great new family movie in the easter basket, with homemade popcorn balls (http://healthyeating.sfgate.com/healthy-popcorn-balls-6092.html), for viewer enjoyment, and continue that tradition yearly.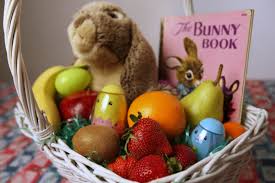 Health(ier) Easter Baskets It's not as hard as it sounds. Here are some of great ideas: Make the basket more about small, fun items. Coloring books, sidewalk chalk, glow in the dark silly putty. Include simple, but yummy homemade chocolate covered fruit (http://www.foodnetwork.com/recipes/food-network-kitchens/chocolate-dipped-fruit-recipe.html) which you can put in a clean plastic easter egg and keep refrigerated. Fill it with exercise related items. New athletic socks, light weights for small kids, athletic headbands for girls, an ipod cover, jump rope or a new music list for dancing or working out. Make the Easter Basket theme related. It would be easy to come up with some great baskets with very little of the sweet treats and more focus on a hobby or interest. Some thoughts are golf, baking, princesses, dragons, cars, jewelry, crafts, and the nice thing is that you can make it age related. Definitely healthier than baskets full of candy! Prepare like you would for any holiday. Make homemade treats that don't take a lot of time or money. Anything made at home is healthier than store bought. It really is that simple! If you are going to do the whole store bought thing, Annie's has some decent ingredients in their products, and that gives you some options.. Fill eggs with her mini peanut butter crackers, graham bunny's or roll-ups. Portion It Out Those plastic eggs are great for keeping portions of the not-so-good treats smaller, but still looking pretty cute. Take your bag of jelly beans, chocolate eggs, easter candy corn, and the like, and put a small amount into a plastic egg, instead of dousing the basket with half the bag. It will not make the product healthier, but the amount being less than usual will.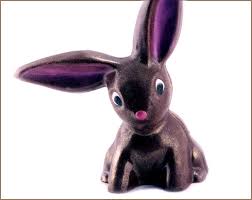 Give Chocolate with a High Cocoa Content because that will help you reap the rewards of eating it. To get best results, it is recommended that you buy a chocolate with 70% cacao (cocoa) or more. The benefits to eating this type of chocolate vs. store bought chocolate are incredible. Real chocolate contains antioxidants called catechins and epicatechins (which can help to fight off free radicals and assist in fatigue), it also has antibacterial, and anti-inflammatory compounds. According to one study it can lower your anxiety level. Let me just say that we are talking about 1 ounce, everyday. One ounce. At that level - just one ounce a day- it has been said to help decrease cortisol levels, and according to an article in Scientifc American, studies have shown that Cocoa may improve insulin sensitivity which may imply delay or prevention in the onset of diabetes and prediabetes. Dark Chocolate really deserves its' own blog, so I will leave it at that for now. When looking to purchase chocolate, remember that the higher the cocoa level, the better it is for you. Another tip is to look at the ingredients; the few the better, and if it has ingredients you can pronounce and recognize, that's one for the good guys! If it contains soy lecithin, leave it on the shelf. Trader Joe's and Wegman's have a couple of decent choices, but it's also very easy to make your own, just incase you are feeling ambitious. Here's a great adult treat to make - http://www.runningtothekitchen.com/dark-chocolate-kahlua-coffee-bites/ And, one for the kids: http://www.yummly.com/recipe/Mexican-Spiced-Chocolate-Chip-Cookies-566212?columns=4&position=20%2F24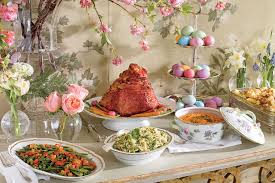 Opt for Homemade Food vs. Restaurant Food So how do you really know what is in the food you buy at a restaurant? I was told once (by an insider) that the amount of spices, 'butters' and oils in some grocery store prepared foods is so outrageous that she felt she couldn't even recommend the vegetables to friends. I'm sure that must be the case for some restaurants too! I don't say it lightly when I put this out there "most anything homemade is better than store bought or eating out". Homemade means you know what you put in it. Homemade can also mean making some adjustments to the recipe to reflect on a healthier final outcome. I'm always lowering the sugar content in a recipe to make it healthier, and it rarely makes a difference to the taste. Keep your meal simple - a protein, a quality carb or two, some good fats, and keep the portions reasonable. Check out this link to some healthy side dishes for your meal: http://www.cookinglight.com/entertaining/holidays-occasions/easter-side-dishes and then take a look at this recipe for the kids (bet you'll want some too!): http://www.health-bent.com/meat/paleo-chicken-nuggets At the end of day remember to be grateful for all the wonderful moments that made your day special!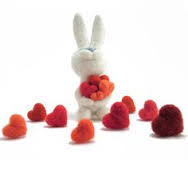 From the TrainSMART family to you and yours, have a very happy, and healthy Easter! PM