BREAKFAST IN A GLASS
"If you're not a big morning eater, have a tasty smoothie with protein powder and healthy fats. A favorite is this blueberry-avocado-kale shake."
4- 6 ounces of water, 4-6 ounces of coconut milk, 1 serving of whey protein or pea protein powder, 1 serving of greens powder, 1/2 frozen or fresh blueberries, 1/4 avocado, 1 cup kale, and 4 ice cubes. Blend the ingredients in a blender until smooth and creamy. I'm trying to find a polite way to say that the smoothie combination in Dr. Lipman's book sounds ummm, unpalatable? Kale has a tendency to be very strong when added to a drink and the thought of topping it off with a greens powder makes my tastebuds squeal. Are you with me on that one?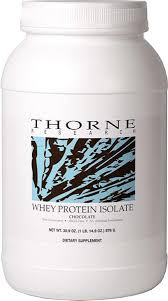 Everyone should experiment with shake ingredients to find out what they like best. There are a few things to consider to make your drink healthier and tasty. Protein powder does matter! I have tried it all - hemp, pea, rice, whey (always choose isolate, not concentrate), and egg. My favorites are Thorne (which Trainsmart sells in vanilla and chocolate flavors - vegan too), and Jay Robb which you can get online or at the Vitamin Shoppe. Both of these proteins mix easily for the convenience of an on-the-run shake-and-go, or to use in a traditional manner in the blender. No clumpiness in either one. Watch out for too many sugars, soy, and preservatives in your protein - read labels! Here's a link to look at the value of our Thorne Research Protein: (https://www.thorne.com/education/resource-library/documents/571-whey-protein-isolate-information)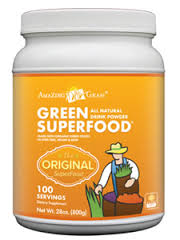 When it comes to greens I like to use whole foods like spinach, romaine, cucumbers, celery, zucchini, and matcha tea - I know you might be thinking where did matcha come into play? It just did, it's very very green, and very very high in antioxidants! I love kale but prefer to see it dished up right next to my chicken or steak entree. Here's the thing with greens powders - as we were told by our representative from Thorne - greens powders can contain a lot of contaminants in them because of the way in which they are reduced to powder form. Thorne does not carry one yet for this reason. I keep one on hand from Amazing Grass and use it sparingly throughout the year; especially if I'm in a rush and haven't been taking in enough veggies.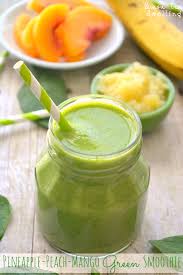 One more thing to be aware of when mixing up your protein shake - size matters! Unless you are an Olympian athlete whose body is in a constant state of fire, you do not need more than what your body is burning. For women, a shake that has 8 ounces of water (or slightly more) or non diary milk plus all the other ingredients is good. Sip in the morning or preferably before, during or after your workout. For the men, depending on age and condition, a 12-14 ounce shake is great! So here is one of my favorite shakes: 8 ounces of water, 1 teaspoon of matcha, 1 teaspoon of sun nut or almond butter, 1/4 cup pineapple, a few pieces of mango, 1/4 of a banana, and a serving size of vanilla protein. If you like it thicker add ice until you reach the desired consistency. That's a perfect sweetness for me, but if you are trying to detox from sugar, but aren't quite there yet, I recommend using a product called Better Stevia Glycerite. It is a plant based sugar replacement.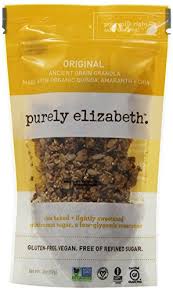 I might as well confess now that I throw a little 1/2 serving of Purely Elizabeth Ancient Grain Granola on top of my shake and mix it in by spoon. The extra crunch along with the thick smoothness of the shake is very satisfying. AND, Because I love a bargain, I want to let you know that Purely Elizabeth is on sale now at Target for $3.99 - which is a savings of $1-$2 per bag depending on where you see it. Top of the Morning To You!