Raw Nuts Are Packed With Nutrients
"But store-bought roasted nuts are not. Industrial high-temperature roasting kills many of the nutrients in nuts. Buy raw and consume that way, or slow roast at home. Just spread nuts on a cookie sheet or a piece of foil and place them in the toaster oven at 165 degrees for 10 to 15 minutes (keep an eye on them to make sure they don't burn). You can add a little nutritious unrefined sea salt once you take them out".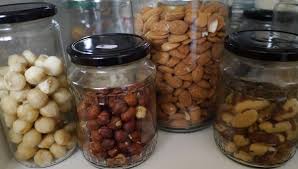 What I Know For Sure:
All nuts are not created equal. Raw is always the best option.
The nutrient content can be amazing, but popping them in your mouth like popcorn and without thought can add bulge to your body where you may not want it to go. That applies to roasted, raw, sprouted, salted, and nut butters.
A serving size of nuts provides a person with good fat and the feeling of being full and satisfied. (See the blog on fats for how many of which nut to eat.)
Nuts are full of good things like omega 3 fatty acids that are heart healthy, fiber which helps make you feel full and has cholesterol lowering benefits, vitamin E, and l-argine which can make the wall of your arteries more flexible and provide better blood flow.
Storing nuts in the freezer will extend their life and keep the oils in them from going bad. Because they contain very little water they won't freeze all the way through and will stay good for a very long time. tip: Keep all your nuts and seeds in the freezer in labeled jars this way they won't spill all over the place and get stale tasting, and you will be able to identify them from a glance at the label.
You can soak your almonds for a couple hours or let them germinate overnight (they get little tales on the end) to get more nutrition out of them and for easier digestion.
Wegman's and Trader Joe's have a good selection of sprouted and raw nuts.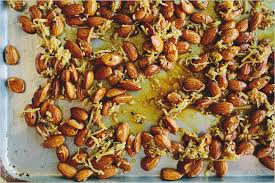 What Pam Proposes: Enjoy a variety of nuts. Much like fruits and veggies, nuts have a lot of good ingredients with one type containing more of a nutrient than another. I recommend trying a nut you've never tired....maybe a brazil nut, chestnut, or beechnut. If you've never made your own almond, coconut, or cashew milk, give it a try. It's fun and you can flavor it how you like it! Here's a recipe:http://www.motherearthnews.com/real-food/how-to-make-nut-milk-zmrz13onzmat.aspx You will need cheesecloth or a nut bag to make your own homemade milk, but that's about it. You can add vanilla or your favorite flavor, cacao for chocolate milk, matcha green tea for a great little milk tea and then add honey for a tasty good-for-you after dinner snack (that can be lightly warmed or drinking on ice. If nothing there sounds good to you, get creative and come up with your own specialty blend.