Remember Kristen? We were at the part where she visited Trainsmart to find out if it was the right fit for her. So the story continues.....
After leaving the initial meeting with Joe, Kristen was feeling strongly that this was THE place that could really help her. Finances played a piece in the decision, but she had the backing of her guy, Jeff, and a feeling that "this was it" so she decided to move forward with a commitment to Trainsmart. She was grateful, excited and a little scared!
Meet Dr. Brandon
First day in at Trainsmart, she got to work with Dr. Brandon. He's a guy who wears a lot of hats at Trainsmart, a guy who loves to learn and continue to educate himself. Today he was going to use the tools he obtained from getting his FMS (Functional Movement Systems) and SFMA (Selective Functional Movement Assessment) certifications. So Kristen's journey to wellness began! She received a comprehensive assessment, along with a referral to begin the process of healing injuries. The Trainsmart Team works with a great team of local professionals including one of the best Sport and Spine Doctors world-wide.
The initial work outs felt a little awkward because it was a new experience - no weights, no scale, no cardio. She was told that this training was going to put her in charge of her own body. She felt encouraged when Dr. Brandon and Joe Fox acknowledged and addressed the subject of how Trainsmart was going to do everything they could to address her knee pain. This was holding her back for so long!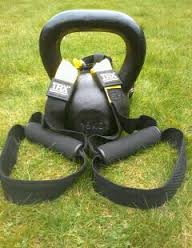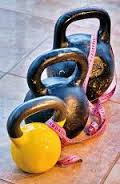 Kristen felt the atmosphere at Trainsmart was different from other places she worked out in the past. Here Trainers were caring and other clients were encouraging and welcoming! There were a few hiccups along the way. For instance when she trained with different people who positioned her slightly different during work outs, it was hard to get a handle on the perfect stance, but once that was addressed and corrected she found her sweet spot in Training, and continued to improve! Fast forward to 1 year at TrainSmart Kristen stayed consistent in working out and actually brought her work out equipment everywhere she went. Talk about tenacious and committed, on off days she followed her program; on lunch hours at work in an empty office or at the gym she still belonged to.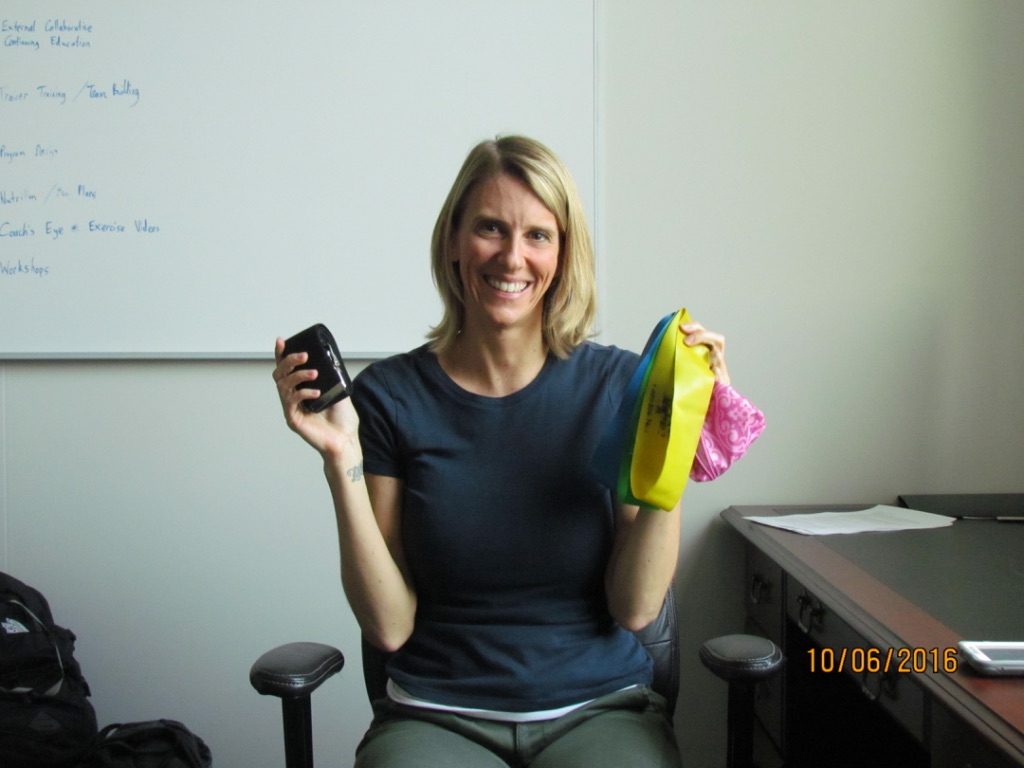 Kristen's workout bag - "I can take it anywhere, workout anywhere, it's awesome!" Kristen was approached to be a part of Trainsmart's family as a Trainer and was offered to be put through the TS Certification Program. At this point, she was strong, lean, and performed every movement with precision! Everyone at Trainsmart enjoyed her company and was behind her. I think it's fair to say she was happy to get the recognition as someone who stood out. Kristen had overcome so many things in her life, and now someone else saw her strengths and goodness. There's the beginning of a quote that reminds me of her. Simply said, "Courage doesn't always roar" The certification program in place, she began this leg of her journey. The biggest challenge would be opening up even more to let people in. She is the dichotomy of shy and unreserved! Kristen approached becoming certified with the same tenacity she gave to reaching her initial goals. Slowly, she has become more confident and assured that what she teaches is going to make a huge impact on the life of a client. She basks in the glory of the clients accomplishments, knowing it's going to have a great impact on their well being, just like it did on hers. Most client sessions leave her drained and out of oomph - she gives her all every time!! At Trainsmart clients get to select the music they want to work out to.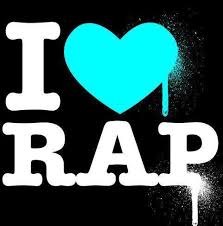 I would have never guessed, but Kristen likes to tap into the raw power of RAP! Just imagine when she gets a request for John Denver! If that doesn't make you smile.... Tomorrow please follow this blog to find out what goals Kristen reached besides rocking a six-pack!