RANT ON....Fall is here and as they say in Game of Thrones "winter is coming". I like to think of it as 50 more days of Fall with the possibility of sun. I know skiers, snow boarders and outdoorsy types look forward to the dead of winter and relish the challenge of staying upright in the snow, but I think there is a reason why winter has idioms related to it like 'snowed-under' and 'a snow balls chance of hell'. In case you can't tell, this time of year brings out the ugly in me...self-induced hibernation, possible weight gain, wearing hoodies (hood up around the head and face for any time spent in the house), and dread of having the added stress of competing with others in an effort to keep up with the holiday"norm" - lights, decorations, finding the perfect gifts, and hosting elaborate dinners are a few of the things I find exhausting. I'm more of a day-to-day gal! And, to add to my discomfort, this Fall is made worse by a Presidential Election with candidates that scare the bejesus out of me!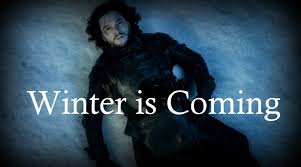 So now I have that off my chest (and I do apologize for that tirade), I can get to the real reason we are here. I have some great topics lined up for TrainSmart. In addition to completion of the excerpts from Dr. Lipman's book, "The New Health Rules", we will talk about how to have good energy (chi) in your home, maintaining weight during the holiday season, food prep, detox "is it real"?, and I will share some of my favorite winter food recipes. We also invite you to read the great interview I had with Kristen Camp (one of our delightful Trainers) and how she found better health and balance in her life through her work-outs at TrainSmart. We want you to know us better, to understand our mission and philosophy as it relates to you, so we will be sending out a series of blogs to address that. Joe and Dr. Brandon will lend their voices to our readership. So fun and exciting! Please continue to cheer us on and I will be happy to address as many comments and questions as possible. Our readership has sky rocketed to a million readers (ok, did I get you there? So I may be exaggerating by 999,950), so please bear with me if I don't get back to you right away. I wanted to keep this first blog of the season short, so I'm going to share a recipe I received at a class about herbs and essential oils last weekend. It is for a simple, natural aid to help boost immunity, shorten or prevent colds, help with the Flu, and sinus/allergies.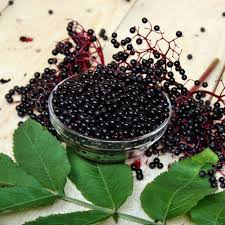 Elderberries have been around for ages. They are rich in vitamins A, C and in bioflavonoids (which ups your immune system by increasing antioxidant levels). All though studies are not conclusive, it is said it may help open passageways so you can breath better during a cold, and sooth a sore throat. According to The University of Maryland Medical Center "Elderberry may help treat cold and flu symptoms by reducing congestion and possibly making you sweat more. One study suggested that using a standardized elderberry extract, Sambucol, could shorten the duration of flu by about 3 days. Sambucol contains other herbs plus vitamin C, so no one knows whether elderberry by itself would have the same effect." "Another preliminary study found that a lozenge with elderberry extract (ViraBLOC) helped reduce flu symptoms when taken within 24 hours of symptoms starting. In the lab, one study suggested that elderberry could kill the H1N1 virus ("swine flu") in test tubes, but researchers do not know whether it would be effective against H1N1 in people." I am taking a daily swig of it, but it is too early for me to report a change of any kind. Dosage recommendations are: adults 1 tablespoon once a day unless you have a cold or flu which requires a swig of it every 3 hours until symptoms abate. Kids can take 1/2 to 1 teaspoon daily and apply the same rules if sick with flu/cold, 1/2 to 1 teaspoon every 3 hours until feeling better.
ELDERBERRY SYRUP
INGREDIENTS
2 cups of dried elderberries
1 large piece of fresh ginger (about 3 fingers wide)
6 whole star anise
4 whole cinnamon sticks*
18 whole cloves
13 cups of water
4 cups of raw honey
*Each cinnamon stick is equal to 1/2 teaspoon of cinnamon. So if you want, substitute 2 teaspoons of Ceylon Cinnamon in place of the sticks.
DIRECTIONS:
In a large pot combine water, dried elderberries, cinnamon, cloves and anise. Bring to a rolling boil. Reduce heat, cover and simmer for about an hour with lid cover cracked open a little. After an hour, uncover and cool on stove in pot.
Strain the liquid into a large bowl and be sure it is cooled to 110 degrees or less before adding the raw honey. Stir.
Poor into sterile glass bottles. I am planning to use old glass syrup containers, but any glass container with a lid will do.
AND NOTE: This recipe makes about 3 quarts and will last about 2 to 4 months in refrigerator. It tastes good and can be used on ice cream or drizzled on yogurt for added flavor and benefits. Looking for Elderberry? Check out Herbal Magic in Lockport.