I'm feeling the need for a change in my daily food regimen. It may have something to do with the excitement I feel for the wonderful fresh foods of Summer from local Farmer's Markets. Today starts my 30 days of whole foods.
Not according to a book of any kind, but on the basis of the questions I will ask myself before eating. Did this food grow in the ground? Should I cook it or can I eat it raw? What is the best way to enjoy it and retain the foods' essential nutrients? Do I need to disguise it with processed food enhancements to enjoy it? Does this food come from a well fed animal? Are these nuts/seeds I am going to eat raw and good for me without additives? One of the foods I'm starting with (because I have it in my fridge already) is cauliflower. I love cauliflower! This is how it usually plays out from grocery store to where it ends up. At grocery store: "Oh I love cauliflower. I'm going to buy it and make something really tasty with it." At home as I put it in the fridge: "I can't wait to have this cauliflower tomorrow with a good piece of meat." Next day: "Oh there's that cauliflower I bought to go with my steak. I can't wait to make it." Few days later: "Oh there's that cauliflower that I should have used. I think it's rotting." Finally: "RIP dear cauliflower."
Well, not this time. I think it may become a favorite! Oh how I wish my own personal food angel would appear to feed me on a daily basis as well as I feed my dog (he gets lentils, quinoa, evoo, cod, mixed organic veggies, etc.). Yes, he did hit the lottery coming to our house! We just love our boy Quincy! Okay, okay, enough already! Back to the subject....
Here are a few fun facts about this wonderful vegetable:
You can eat the leaves! Oh, yes you can (preferably roasted in 400 degrees oven till brown and crispy - 15 minutes).
The white of the cauliflower is called curd.
The leaves are 'little shop of horrors' big before they are picked.
Orange cauliflower has about 25 times more vitamin A (beta carotene) and is milder in taste.
Cauliflower should not be frozen (it will turn mushy).
Cauliflower contains 25 calories and 5 grams of carbs per cup.
Cauliflower is rich in choline, B6, vitamin C, vitamin K, magnesium, folate and on and on and on.
Cauliflower needs to be stored in the refrigerator (preferably unwashed until you are going to eat it).
Cauliflower belongs to the cruciferous vegetable family which means it is full of antioxidants and phytonutrients (think quercetin, beta-carotene, ruin, etc.), it can be an aid in gut health, and the sulforaphane (I like that word, say it out loud - SUL 4 A FANE) in cauliflower may help with blood pressure and kidney function.
That is only a small smattering of cauliflower's benefits. I could go on and on, but I think you may agree that it sounds like a 'superfood'. This vegetable can be enjoyed raw, or steamed, but this is my favorite way to eat Cauliflower. The Chimichurri sauce is tasty, but not necessary to enjoy the great flavors. Here's a recipe from Danny Seo's book Naturally Delicious.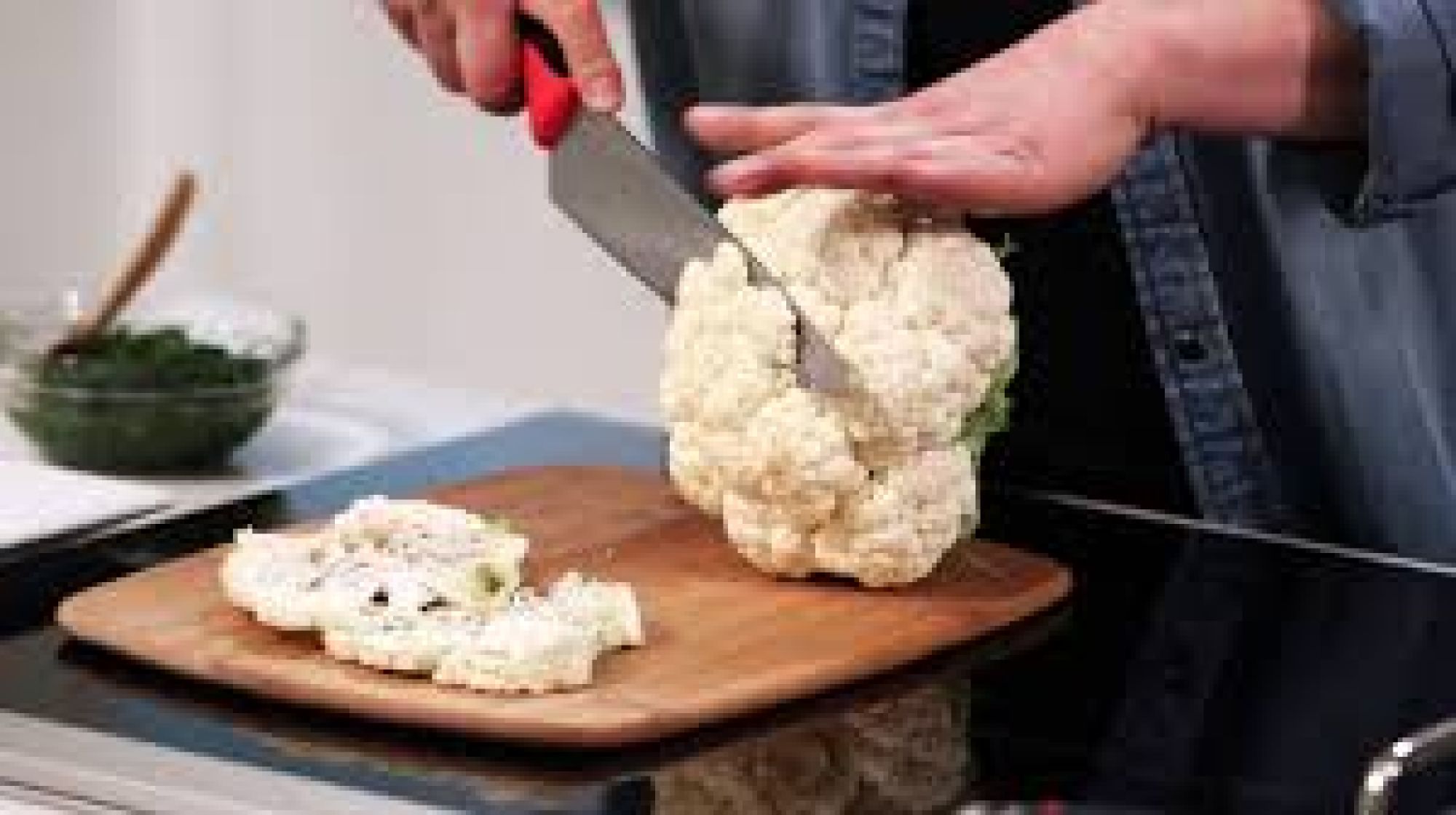 CAST IRON SEARED CAULIFLOWER STEAK (or use the grill this time of year): SERVES 4 ACTIVE TIME TOTAL TIME INGREDIENTS:
¼ cup

avocado oil

1

head cauliflower, cut into ½-inch-thick vertical slices

¾ tsp

sea salt, divided

Freshly ground black pepper, to taste

1

bunch parsley, stemmed

1

bunch cilantro, stemmed

¼ cup

red wine vinegar

¼ tsp

red chili flakes

2 garlic cloves

chopped

¾ cup

olive oil
DIRECTIONS:
Preheat oven to 375°F.
Heat a large cast-iron pan over high heat. Add avocado oil. Sprinkle cauliflower with ¼ tsp salt and pepper. Cook 2-4 minutes per side, or until golden and crispy. Transfer pan to the oven and bake 10 minutes, or until cauliflower is tender.
For the CHIMICHURRI SAUCE: Combine parsley, cilantro, vinegar, remaining ¼ tsp salt, garlic and red chili flakes in a food processor; pulse to combine. With motor running add olive oil through food chute; process until smooth. Spoon over cauliflower to serve.
I hope this blog will prompt you to visit your local grocery store and enjoy this tasty and wonderful vegetable. Feel free to share it online so your friends can benefit from this too. Wishes go out to you for your best health! Pam